Your Business News
Hotel market shows continued resilience with a focus on luxury
May 11, 2023
Authored by RSM Canada LLP
Mark Boivin CPA, CA, CBV shared this article
ARTICLE | May 11, 2023
The hospitality sector, in particular, is sensitive to current challenges in the broader economy: rising interest rates, higher inflation and a tight labor market. Even so, the industry is making strides in the post-pandemic new normal as the focus shifts to high-end, experience-rich destinations in the luxury segment.
In the early days of the pandemic, coastal and resort hotels with lighter restrictions benefited from travelers escaping quarantine. Economy and extended-stay properties, which accommodated essential workers in need of refuge, fared better than amenity-rich properties hurt by concerns around social distancing. Three years later, upscale properties are now leading a rebound, having enjoyed a renaissance built on steady room rates, distinctive accommodations and an affluent market that is less price sensitive in an inflationary economy. The luxury segment is expected to remain robust amid the broader economic slowdown.
Luxury rates and consumer expectations fly high
As consumer preferences have shifted from goods to services, more travelers seek unique lifestyle experiences, and the hospitality sector appears to be meeting demand. According to data analytics firm STR, U.S. hotels reached 62.8% occupancy in early March, exceeding 2022 levels and tracking close to 2019. Room prices are up, with the average daily rate 14% higher than in 2019 at $151 and revenue per available room (RevPAR) 8% higher at $95.
Having learned from mistakes made during the global financial crisis of 2007-2009, owners and operators of upscale properties maintained their rates through the pandemic downturn to preserve pricing power. As a result, when restrictions were lifted, and travel began to normalize, guests were used to paying daily rates without a significant discount. A reduced labor force and limited room supply allowed luxury hotels to maximize their margins and recover more quickly. By August 2021, RevPAR was even with 2020 levels and by December 2021, it had more than doubled. We expect the trend to continue throughout 2023 as the focus on wellness and healing, fresh dining options, unique excursions and sustainability continue to help the luxury space.
Labor gaps result in diminished hospitality experience
As demand returns for all hotel segments, owners and operators are battling an ongoing labor crisis. Even though hospitality job reports have consistently been favorable, the composition of workers in the market leaves the industry searching for talent. According to the U.S. Bureau of Labor Statistics, employment increased by 311,000 jobs in February, including 105,000 positions in leisure and hospitality, consistent with an average monthly jobs gain of 91,000 since April 2020. Despite these gains, job openings in the sector rose to 1.7 million available positions through February 2022, as filling available roles remains challenging, and some workers previously committed to the sector have fled for opportunities in other industries. Labor market stress is reflected in record pay rates of roughly $20 per hour and an inability to match open jobs to workers with appropriate skills. As hiring costs rise for entry-level and middle-management positions, higher labor dollars reduce hotel profit margins at the expense of a diminished hospitality experience.
TAX TREND: Workforce
For hospitality companies trying to find and keep entry-level and middle-management employees, developing a compensation philosophy centered on total rewards instead of record-high hourly pay rates may effectively balance costs with offerings that match workers' preferences. Retirement programs, education opportunities or assistance and subsidized transportation benefits are just a few of many common offerings with tax implications.
Despite challenges related to the labor market, technology and capital investment have bridged the gaps and allowed hotel operators to continue providing quality experiences. Although the overall labor market remains strong, the hospitality industry faces an ongoing struggle to find talent, which will shape how travelers interact with staff and onsite amenities.
Nominal rates and RevPAR exceed 2019 levels
12-month % change–revenue per available room (RevPAR)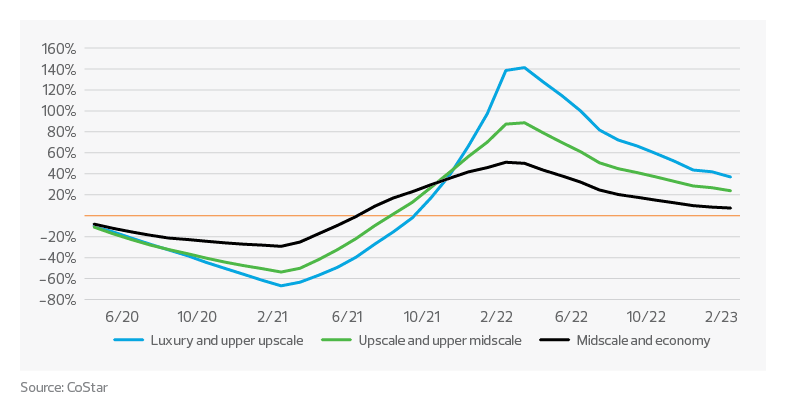 Capital markets hurt by interest rates and banking disruption
The outlook for capital markets activity in the hospitality sector is cautious going into the second half of 2023. A series of interest rate hikes by the Federal Reserve has made the cost of debt and equity significantly more expensive. Therefore, a slowdown in transactional activity is expected across the real estate industry, including hospitality. Meanwhile, recent weakness in the U.S. banking sector, underscored by the demise of several regional banks, threatens financial stability and liquidity prospects for hotel investors.
TAX TREND: Elevated interest rates
Relatively high-interest rates, combined with an unfavorable change in tax law, have left many businesses paying more interest while seeing a decrease in their tax deductions for interest expense. As a result, real estate investors seeking to maximize their cash after taxes may be compelled to make an irrevocable election that excepts their business from the limit on the amount of business interest they can deduct from their taxable income.
While luxury hotel transactions dominated headlines in 2022, they accounted for just 3% of the total number of transactions. According to CoStar data, activity was heavily concentrated at the lower and middle segments of the market. Economy hotels represented 38% of trades, followed by the midscale tier at 13%, with individual investors driving the bulk of transactional activity. The outlook for 2023 calls for strong investor interest in the luxury segment and fewer prospects for business and economy hotels as demand has waned nationwide. Meanwhile, increasing costs for debt, building materials and construction labor have muted new supply.
As lending requirements have tightened, private-label hotel commercial mortgage-backed security (CMBS) issuances have dropped and securitized note rates have increased. While mezzanine and other debt financing remain available in the marketplace, higher interest rates, required capital improvements deferment and depleted replacement reserves may prove too much for current owners to recapitalize their positions pushing transactions into the second half of 2023.
TAX TREND: Distressed assets
Given the potential emergence of distressed assets, understanding the tax implications of loan defaults can inform your decisions and prevent surprises. In the case of a loan default, a borrower might have to recognize income and pay tax despite not having the cash.
Commercial mortgage-backed security (CMBS) issuance trends

The takeaway
While luxury properties have enjoyed a strong performance and investor favor, all hospitality segments remain challenged by inflation, a shortage of skilled labor and consequently diminished consumer experiences. Technology solutions that offset labor shortages and those offering data mining and operational efficiencies can help hotel operators and owners mitigate these challenging trends. The capital markets outlook for 2023 and 2024 will be diverse as strong assets potentially hit the market due to maturating debt. Meanwhile, increasing debt, materials and labor costs will mute hotel supply growth. 
Let's Talk!
Call us at 1 855 363 3526 or fill out the form below and we'll contact you to discuss your specific situation.
RSM Canada Alliance provides its members with access to resources of RSM Canada Operations ULC, RSM Canada LLP and certain of their affiliates ("RSM Canada"). RSM Canada Alliance member firms are separate and independent businesses and legal entities that are responsible for their own acts and omissions, and each are separate and independent from RSM Canada. RSM Canada LLP is the Canadian member firm of RSM International, a global network of independent audit, tax and consulting firms. Members of RSM Canada Alliance have access to RSM International resources through RSM Canada but are not member firms of RSM International. Visit rsmcanada.com/aboutus for more information regarding RSM Canada and RSM International. The RSM trademark is used under license by RSM Canada. RSM Canada Alliance products and services are proprietary to RSM Canada.
FCR a proud member of RSM Canada Alliance, a premier affiliation of independent accounting and consulting firms across North America. RSM Canada Alliance provides our firm with access to resources of RSM, the leading provider of audit, tax and consulting services focused on the middle market. RSM Canada LLP is a licensed CPA firm and the Canadian member of RSM International, a global network of independent audit, tax and consulting firms with more than 43,000 people in over 120 countries.
Our membership in RSM Canada Alliance has elevated our capabilities in the marketplace, helping to differentiate our firm from the competition while allowing us to maintain our independence and entrepreneurial culture. We have access to a valuable peer network of like-sized firms as well as a broad range of tools, expertise, and technical resources.
For more information on how FCR can assist you, please call us at 1 855 363 3526