Your Business News
The potential impact of artificial intelligence on the advertising industry
May 8, 2023
Authored by RSM Canada LLP
Joel A. Humphrey, CPA, CA shared this article
ARTICLE | May 08, 2023
Artificial intelligence (AI) continues to make headlines and remains a hot topic across several ecosystems, including advertising. As organizations move through their digital and AI journeys, the following will be key elements to success: 
Selecting the proper tools to solve specific business needs
Having the right infrastructure in place
Supporting technologies and people
Mitigating risks
Blast from the past
During previous economic downturns, we've seen the advertising space take significant financial hits, as advertising is often seen as a discretionary service. In turn, we've seen major layoffs in this sector to reduce operating costs.
U.S. advertising sales and payrolls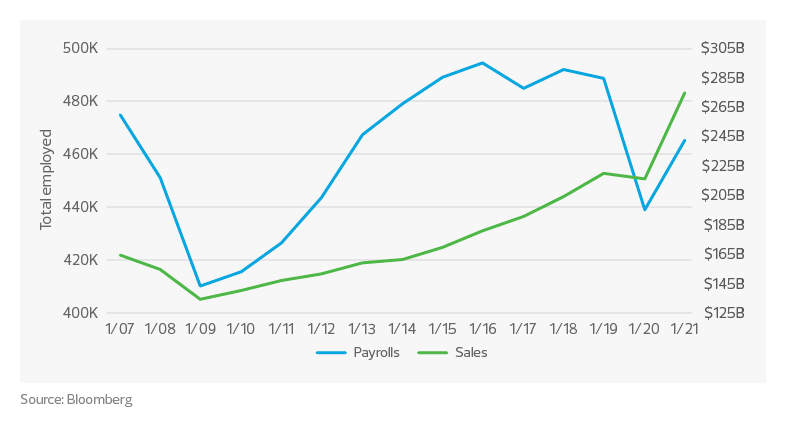 As noted above, advertising sales across the United States hit a 15-year low of $135.7 billion in 2009 due to the Great Recession. The industry saw consistent growth from that point on until another down year in 2020, during the COVID-19 pandemic. U.S. advertising employment levels followed the same trend but dipped more during the pandemic.
The larger players in the space predict the advertising industry will grow at a much slower rate in 2023 due to economic headwinds. According to Bloomberg, many major players in the space—including those with proprietary industry growth survey platforms—expect a 50% or more decrease in growth in the industry in 2023. However,  according to Bloomberg, most of that group expects a strong rebound in 2024.
Companies in this space should continue investing in AI and other productivity-enhancing tools during this time to capture the expected demand in 2024. Firms can leverage these tools to reduce costs significantly.
The rise of AI
Chatbots have dominated the media recently, thanks to OpenAI's launch of ChatGPT in November 2022. Chatbots are slated to disrupt content-producing industries in ways that aren't yet quantifiable.
During previous economic downturns, back-office functions tended to experience the most layoffs. Direct revenue drivers such as data analysts and content producers in advertising are often seen as more valuable than those serving back-office functions. But what if a tool can almost instantaneously replicate most data analyst and content-producer duties? We may see those roles dwindle—and not just due to economic headwinds.
Larger, more advanced firms with more access to capital—and who are aggressive in developing additional revenue streams—may build a more dynamic workforce by upskilling and redeploying many of these individuals to other value-added roles. However, many firms operate as leanly as possible because they can now perform business as usual at a fraction of the previous cost. For a space ripe for further disruption, using excess cash to fund future revenue-driving and productivity-enhancing activities could benefit firms more in the long term. Similar to the impact of remote/hybrid work, this could change how we work.
All things digital
We're in a digital age in which business is conducted digitally, data is collected digitally, and most advertising is done digitally. Companies are reaching the masses digitally. How can a firm be a major player in the space without embracing digital solutions?
U.S. advertising spending by outlet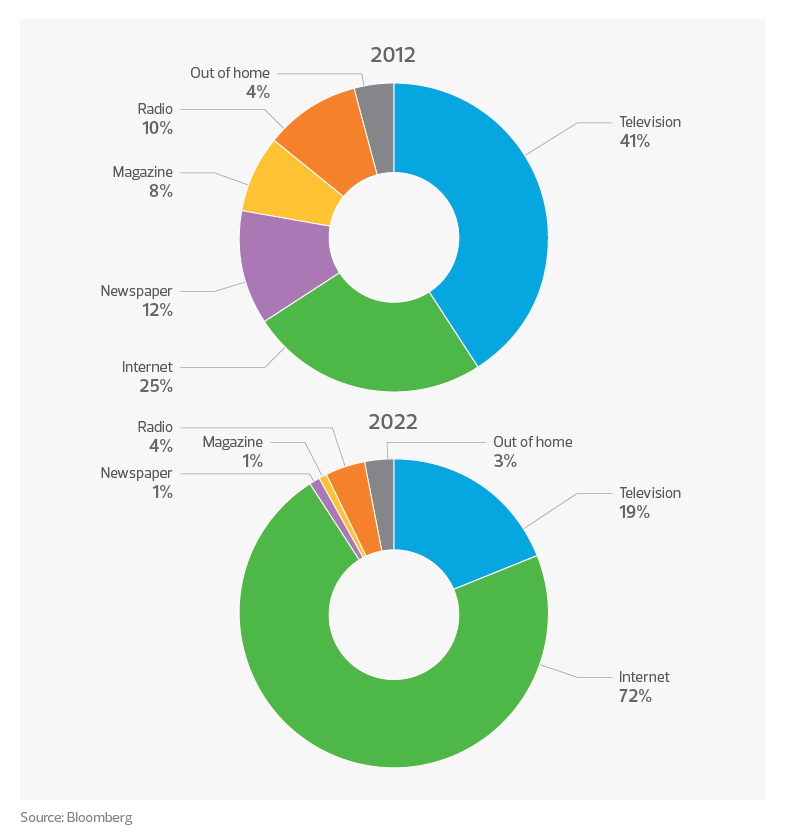 U.S. advertising spending on the internet grew by 490% from 2012 to 2022, while print advertising (e.g., newspapers and magazines) plunged. While this shouldn't surprise anyone, it does underline just how much advertising firms must embrace digital solutions as the core audience surely has. An all-in-one chatbot may be the most important technological advancement since the search engine. In an era of datafication, immediate access to accurate, useful data that can be leveraged for informed decision-making is invaluable.
Access to more AI tools and reliable, immediate data also comes with challenges and risks. Firms not only need to vet the data and content output of such tools for accuracy and relevance, but they need to protect this data at all costs. According to Check Point Research, global cyberattacks increased by 38% in 2022 compared to 2021. Advertising firms typically have access to data and information across several ecosystems as they serve a wide array of industries. Having adequate security in place, while advancing through the AI and digital journey, is imperative.
The next stage
We can surely expect the rollout of chatbots and similar natural language processing (NLP) tools in the very near term. We've already heard the rumors.
Google wasn't the first search engine, but it optimized the solution. Whoever releases a chatbot that can efficiently produce accurate data and visuals based on human, conversational language—while mitigating the risks of copyright infringement, data privacy and cybersecurity—will revolutionize the advertising industry.
Let's Talk!
Call us at 1 855 363 3526 or fill out the form below and we'll contact you to discuss your specific situation.
RSM Canada Alliance provides its members with access to resources of RSM Canada Operations ULC, RSM Canada LLP and certain of their affiliates ("RSM Canada"). RSM Canada Alliance member firms are separate and independent businesses and legal entities that are responsible for their own acts and omissions, and each are separate and independent from RSM Canada. RSM Canada LLP is the Canadian member firm of RSM International, a global network of independent audit, tax and consulting firms. Members of RSM Canada Alliance have access to RSM International resources through RSM Canada but are not member firms of RSM International. Visit rsmcanada.com/aboutus for more information regarding RSM Canada and RSM International. The RSM trademark is used under license by RSM Canada. RSM Canada Alliance products and services are proprietary to RSM Canada.
FCR a proud member of RSM Canada Alliance, a premier affiliation of independent accounting and consulting firms across North America. RSM Canada Alliance provides our firm with access to resources of RSM, the leading provider of audit, tax and consulting services focused on the middle market. RSM Canada LLP is a licensed CPA firm and the Canadian member of RSM International, a global network of independent audit, tax and consulting firms with more than 43,000 people in over 120 countries.
Our membership in RSM Canada Alliance has elevated our capabilities in the marketplace, helping to differentiate our firm from the competition while allowing us to maintain our independence and entrepreneurial culture. We have access to a valuable peer network of like-sized firms as well as a broad range of tools, expertise, and technical resources.
For more information on how FCR can assist you, please call us at 1 855 363 3526