Your Business News
Manufacturing and supply chains in 2030
April 24, 2023
Authored by RSM Canada LLP
Edwin P. Reilly, CPA, CA shared this article
OUTLOOK | April 24, 2023
Building more flexibility while managing costs
Manufacturers have made significant changes over the last three years as global events exposed structural vulnerabilities in just-in-time shipping and supply chain operations. Now, disruptive artificial intelligence technologies signal that another market transformation may be upon us alongside those other forces reshaping supply chains.
Companies will continue to prioritize flexible, resilient supply chains, but that flexibility brings a higher cost in the form of increased inventory, more suppliers and higher input costs. In thinking about what supply chains will look like in 2030, we expect AI will play a larger role in helping manufacturers manage such costs strategically, as will proximity to end markets and the increased presence of digitalization and automation. Global middle market manufacturers will need to invest in their supply chain capabilities with these factors in mind.
Artificial intelligence in manufacturing
AI will be both disruptive and enabling. Unlike the pandemic, however, AI is not an unthinkable or unexpected external market force, nor will its impact fade over time. Manufacturers should view AI as an enabler that can improve their business. 
The most likely use cases for AI in the industrial space will be software developed for logistics, transportation, civil engineering, construction, energy and manufacturing, according to a recent MIT Technology Review article, "Generative AI: Industrial design and engineering." Manufacturers should consider dedicating research and development and innovation teams to monitor when software-as-a-service companies incorporate AI into new and existing software and when those technologies are expected to hit the market.
Because AI solutions will largely come in the form of software, companies' software expenditures—already on a steep incline in recent years—will continue to grow. But AI will also help industrial businesses rapidly ideate, create prototypes, make process improvements, and analyze narrowly defined problems rapidly, all of which will help with managing costs.  
U.S. software expenditures*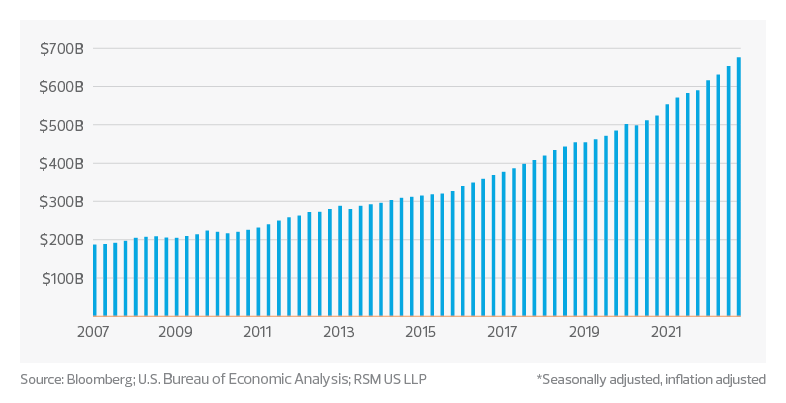 ChatGPT, for example, represents a significant leap in AI capabilities and provides a helpful glimpse of what is possible. The AI tool, released in November 2022, generates grammatically correct prose using training data and algorithms from user text as its input. Its output, though imperfect, will get exponentially better in the next few years. Hurdles do remain for widespread AI adoption, though. For AI to work best it will need good training data. Raw data will not produce good results on its own; a human must clean and transform large volumes of that information into usable data sets. To address this issue, we will see software companies create synthetic training data representing a problem that an AI model seeks to solve, resulting in a significant improvement in adoption rates.
But implementing AI for its own sake will not be useful for manufacturers. Any AI project should have a clear path to profitability and pay for itself in efficiencies. A rule of thumb is to start small and aim to scale up later.
Manufacturers still need to think holistically about how they incorporate AI alongside other changes, such as making operations closer to their end markets. Recent Manufacturing Leadership Council surveys found that by 2030, 60% of manufacturers expect more nearshoring or onshoring of their operations to boost resiliency and better meet local customer needs. Indeed, U.S. foreign direct investment to and from key geographies such as China is showing signs of shifting as geopolitical tensions steer manufacturing away from the nation.
In 2021, the latest year data is available, China saw a 6% drop in FDI from the United States, according to U.S. Bureau of Economic Analysis data. During 2020 and 2021, Mexico saw a 9.1% and 6.1% increase in FDI from the United States, respectively. India saw U.S. FDI increase in 2021 by 7.6%. Both countries are positioning themselves as friendly alternatives to China.
U.S. foreign direct investment in India*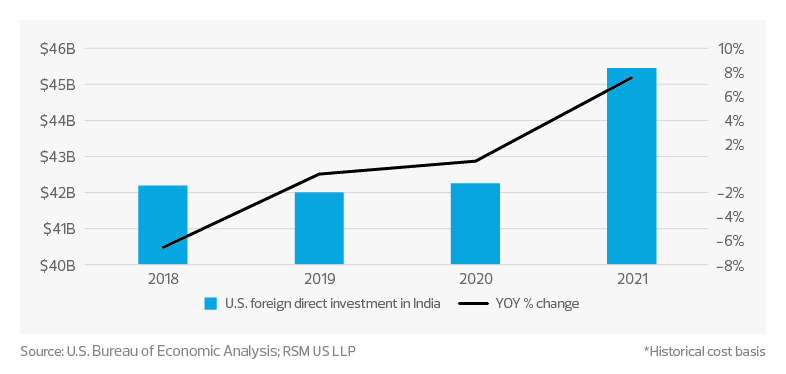 U.S. foreign direct investment in Mexico*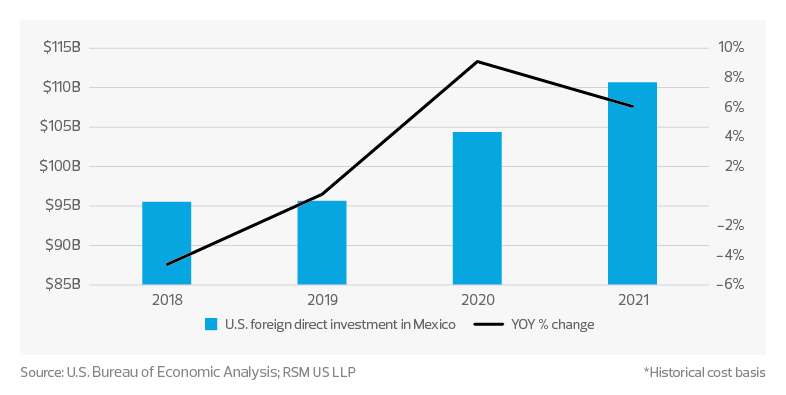 As 2030 approaches, we anticipate this shift toward nearshoring will accelerate. Companies that are eyeing factories in new locations should assess where there may be simultaneous opportunities to invest in automation and digitalization at those facilities.
Digitalization in manufacturing
Digitalization will continue to be the driving force behind evolution for manufacturers across their business functions; 83.9% of executives surveyed by the Manufacturing Leadership Council expect digital adoption will accelerate in manufacturing throughout the decade. Ninety-one percent of those surveyed agree they will need to spend more on digitalizing their businesses than they currently do. Factors contributing to this trend include baby boomers retiring, lack of access to skilled and unskilled labor, and the need to increase operational productivity and capacity.
Digitalized factories provide automated real-time alerts and analytics for production, and for shop floor and warehouse performance, all of which can help manufacturers pivot in the face of those workforce challenges. Data analytics that feed dashboards with set key performance indicators can enable management to be more flexible, and e-learning and learning management systems are helping with onboarding, training and retaining new staff. 
Looking ahead
The complex nature of developing a supply chain fit for 2030 will take time, patience and thoughtful investment in talent, new business infrastructure and key business processes. Manufacturers should start assessing which changes they need to make now. 
This article was originally published on RSM US LLP. 
Let's Talk!
Call us at 1 855 363 3526 or fill out the form below and we'll contact you to discuss your specific situation.
RSM Canada Alliance provides its members with access to resources of RSM Canada Operations ULC, RSM Canada LLP and certain of their affiliates ("RSM Canada"). RSM Canada Alliance member firms are separate and independent businesses and legal entities that are responsible for their own acts and omissions, and each are separate and independent from RSM Canada. RSM Canada LLP is the Canadian member firm of RSM International, a global network of independent audit, tax and consulting firms. Members of RSM Canada Alliance have access to RSM International resources through RSM Canada but are not member firms of RSM International. Visit rsmcanada.com/aboutus for more information regarding RSM Canada and RSM International. The RSM trademark is used under license by RSM Canada. RSM Canada Alliance products and services are proprietary to RSM Canada.
FCR a proud member of RSM Canada Alliance, a premier affiliation of independent accounting and consulting firms across North America. RSM Canada Alliance provides our firm with access to resources of RSM, the leading provider of audit, tax and consulting services focused on the middle market. RSM Canada LLP is a licensed CPA firm and the Canadian member of RSM International, a global network of independent audit, tax and consulting firms with more than 43,000 people in over 120 countries.
Our membership in RSM Canada Alliance has elevated our capabilities in the marketplace, helping to differentiate our firm from the competition while allowing us to maintain our independence and entrepreneurial culture. We have access to a valuable peer network of like-sized firms as well as a broad range of tools, expertise, and technical resources.
For more information on how FCR can assist you, please call us at 1 855 363 3526