Your Business News
Canada's distressed asset sales open the door to potential conversions
September 18, 2023
Edwin P. Reilly, CPA, CA shared this article
ARTICLE | September 18, 2023
Distress indicators are rife in Canada's retail and office sectors, with fewer commercial property deals and tighter financial conditions signaling the market is awash with conversion opportunities for existing owners and future buyers.
Troubled debt situations for office and retail include delinquent loan payments coupled with maturing debts and difficulty refinancing; uncertainty surrounding the timing of interest rate hikes by the Bank of Canada has led banks to tighten their lending standards and, ultimately, has caused a sharp decline in transaction volume.
Distressed investing, which historically has been associated with last-ditch efforts to save properties from foreclosure, is now tuned into the broader issues of social good and sustainability. This in turn is driving many business decisions amid broader scrutiny from shareholders and the general public. Today's investors considering distressed properties are looking for projects that can benefit local communities, but to do so, additional government support is needed to support conversions of commercial real estate into recreational, industrial and multifamily housing projects.
Retail and office transaction volume is down
According to CoStar, Canada's retail sales volume decelerated sharply during the second half of 2022. As this downward trend continues, there is no expectation for the market to enter a new growth cycle until at least 2025.
Similar to the U.S. market, Canada's office sector points to distress. Investment activity remains suppressed with only $2 billion of sales volume year to date, compared to $7.5 billion in fiscal 2022. Ten sharp interest rate hikes at the Bank of Canada, from .50% to 5.00% between March 2022 and July 2023, have resulted in quieter markets and lower investor confidence. Bank lending has become more restrictive in response to the increased cost of financing for commercial and consumer loans.
Investors are turning to alternative financing options including mezzanine debt and preferred equity, but with higher interest rates and diminished demand from lenders, these deals have become more difficult to structure. As long as the Bank of Canada maintains or raises its policy interest rate and the market continues to signal asset distress, conversion opportunities from commercial use are viable options worth exploring.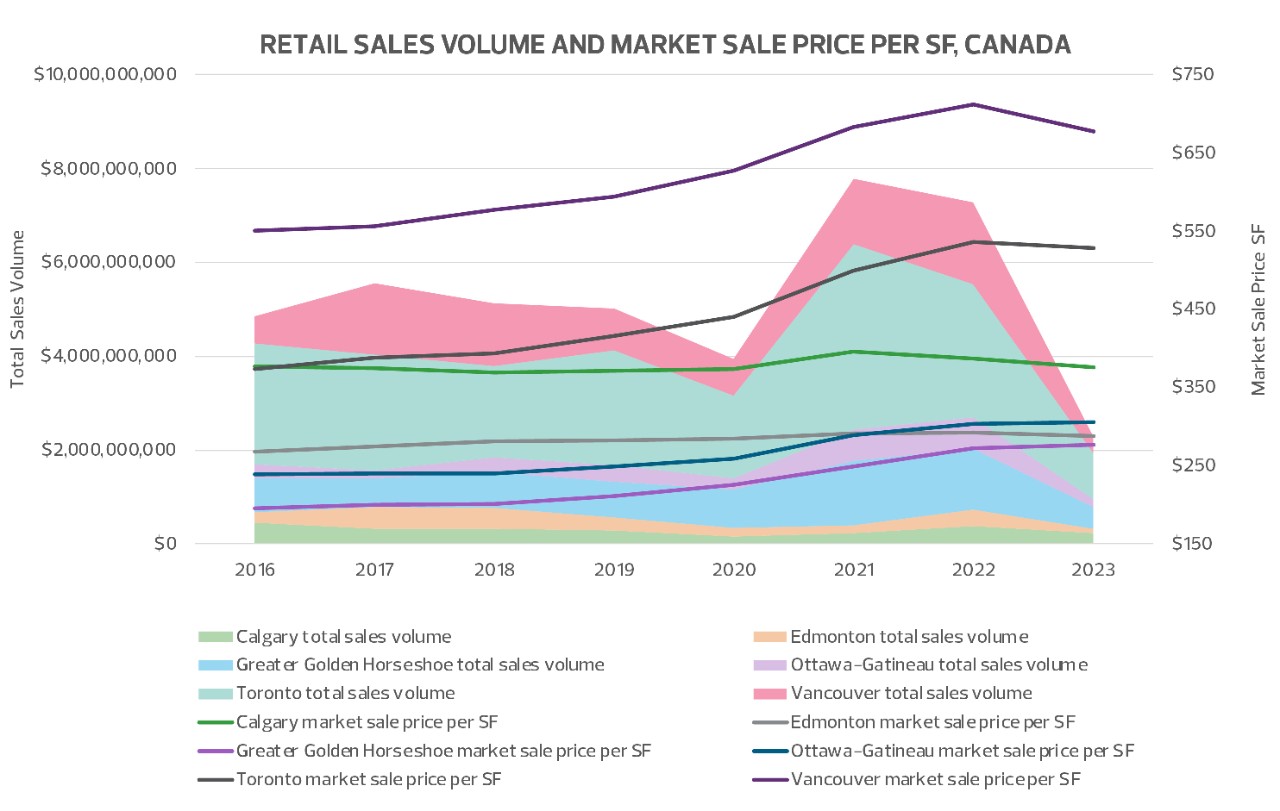 Source: CoStar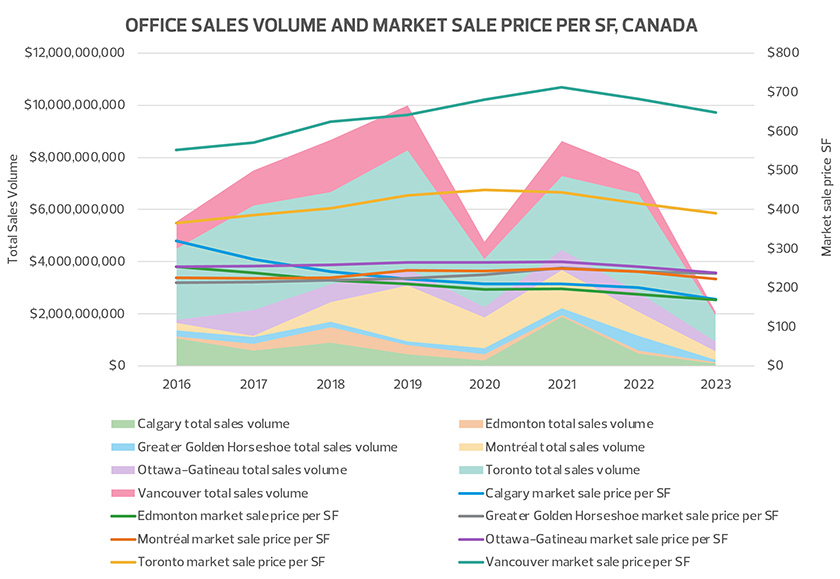 Source: CoStar
Conversion trends speak to community needs
In lieu of big-box retail stores, pickleball courts are popping up across Toronto in response to the city's need for affordable recreational opportunities. After Best Buy at Yonge–Eglinton in Toronto closed its doors in February 2021, the East Toronto Pickleball Association, Fairgrounds and Stackt Market partnered to convert the underutilized space into outdoor courts. Meanwhile, pop-ups such as Spirit Halloween provide a short-term solution to fill more than 1,500 vacant storefronts across Canada and the United States, though we predict these retail spaces may soon become prime real estate for more permanent recreational conversions.
Changing real estate needs are not unique to Toronto. In the City of Guelph, Ontario, demand for more student housing is rising while the hospitality sector continues to plummet; demolition activity now outpaces new construction. To help address the undersupply of student housing, a former Holiday Inn containing 136 suites and 261 parking spots was converted into a private student residence with 164 units and common amenity space instead of parking spots. There is likely more opportunity to remedy the undersupply of student housing with the plethora of hotel properties in the Kitchener/Waterloo/Cambridge/Guelph region.
Although the industrial sector is booming across Canada, outsized demand is constraining the market for new properties. The Eastern Toronto region is a good example, as CoStar reports vacancy rates as low as 1.3%. The Toronto Buttonville Municipal Airport, which will cease operations in November 2023, was slated for conversion into a mixed-use development with a residential focus; however, the plan was amended in July to convert the space into an entirely industrial complex. Overall, the Canadian industrial sector has experienced attractive rental growth at 12.4% over the last 12 months, and we forecast industrial developers will explore more conversion opportunities in secondary markets with lower barriers to entry and fewer restrictions.
Government involvement as a solution to Canada's housing crisis
The Canada Mortgage and Housing Corp. estimates that 5.8 million more homes will need to be built by 2030 to meet the growing demand for affordable housing.
The supply problem has led developers to consider alternatives to building new homes from the ground up. Property conversions require less time, materials and labour, making them a viable solution to the housing shortage. The City of Calgary, Alberta, leads the way in Canada with its downtown development incentive program that provides grants to building owners to convert underused office spaces into residential units, post-secondary institutions and other active uses. According to CoStar, one in three office buildings in major North American cities could be ripe for multifamily conversion; however, additional government programs are needed to achieve Canada's affordable housing goals.
The city of Toronto is working to expand opportunities for "missing middle housing," ranging from duplexes to low-rise walk-up apartments. In May, Toronto City Council adopted the Official Plan Amendment and Zoning By-law Amendment to permit multiplexes citywide. Multiplexes are houses with two to four units in a single building that are either built from the ground up or are single-family homes converted into multifamily units. While the new laws provide opportunities for conversions, navigating these new laws may include challenges, such as the openness to conversions within specific neighborhoods.
At the Association of Municipalities Ontario conference in August 2023, Premier Doug Ford announced a three-year $1.2 billion Building Faster Fund for municipalities to support the creation of new housing in Ontario. While this program will help Ontario reach its plan to build at least 1.5 million homes by 2031, additional support will be needed to ensure there are sufficient schools, green spaces, hospitals and infrastructure to support the growing community needs.
The takeaway
Distressed assets—retail properties, lower-class office space and hotels in secondary markets—present an opportunity for existing owners and future buyers to repurpose those assets and address community needs. We see more conversions on the horizon to bring sectors into better balance within the real estate ecosystem, with government involvement as the key to eliminating Canada's housing crisis.
Let's Talk!
Call us at 1 855 363 3526 or fill out the form below and we'll contact you to discuss your specific situation.
RSM Canada Alliance provides its members with access to resources of RSM Canada Operations ULC, RSM Canada LLP and certain of their affiliates ("RSM Canada"). RSM Canada Alliance member firms are separate and independent businesses and legal entities that are responsible for their own acts and omissions, and each are separate and independent from RSM Canada. RSM Canada LLP is the Canadian member firm of RSM International, a global network of independent audit, tax and consulting firms. Members of RSM Canada Alliance have access to RSM International resources through RSM Canada but are not member firms of RSM International. Visit rsmcanada.com/aboutus for more information regarding RSM Canada and RSM International. The RSM trademark is used under license by RSM Canada. RSM Canada Alliance products and services are proprietary to RSM Canada.
FCR a proud member of RSM Canada Alliance, a premier affiliation of independent accounting and consulting firms across North America. RSM Canada Alliance provides our firm with access to resources of RSM, the leading provider of audit, tax and consulting services focused on the middle market. RSM Canada LLP is a licensed CPA firm and the Canadian member of RSM International, a global network of independent audit, tax and consulting firms with more than 43,000 people in over 120 countries.
Our membership in RSM Canada Alliance has elevated our capabilities in the marketplace, helping to differentiate our firm from the competition while allowing us to maintain our independence and entrepreneurial culture. We have access to a valuable peer network of like-sized firms as well as a broad range of tools, expertise, and technical resources.
For more information on how FCR can assist you, please call us at 1 855 363 3526