Your Business News
Additive manufacturing and the shift to glocalization
April 24, 2023
Authored by RSM Canada LLP
Joe E. Reilly, CPA, CA, CBV shared this article
OUTLOOK | April 24, 2023
How 3D printing can be an asset for middle market manufacturers
Additive manufacturing has come a long way since its inception in the 1980s. Today, it is a widespread mode of manufacturing as companies invest in digitalization and automation in their factories and plant floors. Leveraging additive manufacturing—also known as 3D printing, a computer-controlled process that creates three-dimensional objects with precise shapes—builds resiliency within supply chains, unlocks sustainability potential for manufacturers, and gives rise to "glocalization," which involves businesses capitalizing on global innovation and local production capabilities simultaneously. Manufacturers already use this technology to create prototypes, produce parts at a lower cost and more easily customize items.
"Middle market manufacturers continue to face barriers when it comes to technology adoption, but additive manufacturing could be one path to improvement."
Katie Landy, Industrials Senior Analyst, RSM US LLP
Shaping the factory of the future
Flexibility and versatility once made additive printing a leading technology—and with accelerated usage over the last decade, it is now a prominent growth driver for manufacturers, the leading industry of 3D printing adoption. The additive manufacturing market was valued at $14.39 billion in 2021 and is projected to have a compound annual growth rate of 21% by 2030, to $83.56 billion, according to Research and Markets. This growth is attributed to rising demand for manufacturers to solve problems while delivering significant benefits to supply chain resiliency, sustainability goals, and innovation optimization.
Adoption rates of additive manufacturing technologies across industries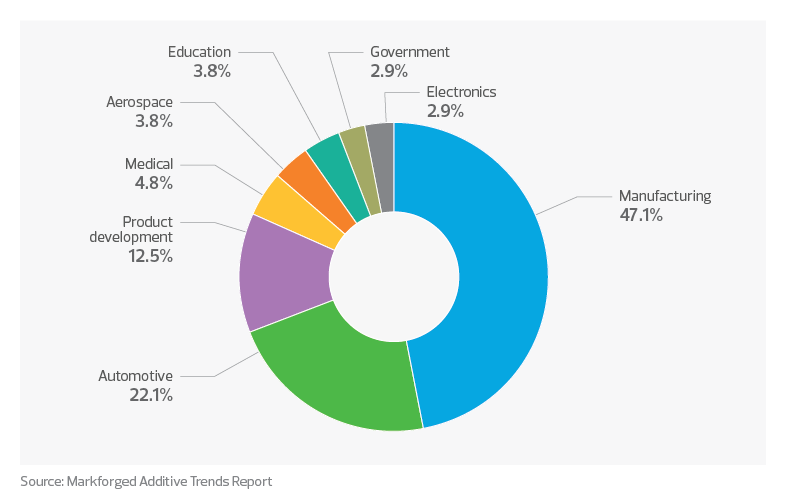 Supply chain resiliency
The pandemic exposed vulnerabilities across the global supply chain that are only now beginning to normalize. 3D printing technology can boost resiliency and more specifically:
Reduce the entrenched nature of the manufacturing supply chain and reliance on international suppliers, allowing for a cost-effective alternative with more local sourcing opportunities
Shorten lead times significantly and support a just-in-time manufacturing production model as an effort to avoid risk and maintain leaner inventories compared to conventional processes
Sustainability advancement
Industrial organizations can use 3D printing to bolster their sustainability practices and environmental goals. Additive manufacturing enables companies to further:
Reduce material waste and improve energy usage throughout the product life cycle as compared to conventional manufacturing
Improve product design with the use of more environmentally friendly materials and lighter-weight materials, which can drive greater fuel efficiency
Innovation optimization
When optimized, 3D printing capabilities can allow organizations to benefit from global innovation while developing local capabilities. If a company or individual creates a prototype or product and a partner company halfway around the world wants to produce that product, for instance, additive manufacturing technologies can allow the partner company to more easily produce that same product at their own existing facilities, rather than having to build out new types of production infrastructure. Pointedly, additive manufacturing:
Drives an innovation-first culture by automating tasks and eliminating production constraints across manufacturing processes
Increases speed to market for products by accelerating design cycles largely though the enablement of rapid prototyping and at a lower cost compared to traditional manufacturing processes
Changing the rulebook for middle market production
The pace of digital adoption across industries has accelerated over the last three years, and that trend is expected to continue over the next decade. Middle market manufacturers continue to face barriers when it comes to technology adoption, but additive manufacturing could be one path to improvement.
Organizations that implement 3D printing as part of their manufacturing processes may be eligible to claim a research and development tax credit.
The Biden administration has taken notice. In response to the global supply chain disruptions and in an effort to support the adoption of 3D printing, the administration launched its Additive Manufacturing Forward (AM Forward) initiative in May 2022. The initiative is a voluntary compact among large manufacturers to help their smaller U.S.-based suppliers increase their use of additive manufacturing and contribute to building resilient supply chains for the U.S.-based domestic manufacturing ecosystem, while also using 3D printing to improve their industrial competitiveness. By increasing adoption of additive manufacturing across small to midsize suppliers, the United States can build far more resilient supply chains for the domestic manufacturing ecosystem, while fostering innovation.
The inflection point is now
As of January, the United States had over 791,000 open manufacturing positions, with an estimated 2.1 million jobs that will go unfilled by 2030. With these anticipated headwinds, middle market manufacturers will need to further lean into the acceleration of digital adoption on the plant floor and strike the appropriate balance of technology solutions like additive manufacturing to combat labor challenges and meet demand.
With the support of the AM Forward initiative, middle market manufacturers that do make those investments in the short term will be in a position to capitalize on glocalization, resulting in improved operational efficiencies, greater supply chain resiliency, and enhanced sustainability measures. This transformative technology is just the beginning of a new era of manufacturing that will further enable the factory of the future.
This article was originally published on RSM US LLP. 
Let's Talk!
Call us at 1 855 363 3526 or fill out the form below and we'll contact you to discuss your specific situation.
RSM Canada Alliance provides its members with access to resources of RSM Canada Operations ULC, RSM Canada LLP and certain of their affiliates ("RSM Canada"). RSM Canada Alliance member firms are separate and independent businesses and legal entities that are responsible for their own acts and omissions, and each are separate and independent from RSM Canada. RSM Canada LLP is the Canadian member firm of RSM International, a global network of independent audit, tax and consulting firms. Members of RSM Canada Alliance have access to RSM International resources through RSM Canada but are not member firms of RSM International. Visit rsmcanada.com/aboutus for more information regarding RSM Canada and RSM International. The RSM trademark is used under license by RSM Canada. RSM Canada Alliance products and services are proprietary to RSM Canada.
FCR a proud member of RSM Canada Alliance, a premier affiliation of independent accounting and consulting firms across North America. RSM Canada Alliance provides our firm with access to resources of RSM, the leading provider of audit, tax and consulting services focused on the middle market. RSM Canada LLP is a licensed CPA firm and the Canadian member of RSM International, a global network of independent audit, tax and consulting firms with more than 43,000 people in over 120 countries.
Our membership in RSM Canada Alliance has elevated our capabilities in the marketplace, helping to differentiate our firm from the competition while allowing us to maintain our independence and entrepreneurial culture. We have access to a valuable peer network of like-sized firms as well as a broad range of tools, expertise, and technical resources.
For more information on how FCR can assist you, please call us at 1 855 363 3526