Your Business News
Target-rich environment for middle market technology sector hiring
January 30, 2023
Authored by RSM Canada LLP
Joel A. Humphrey, CPA, CA shared this article
OUTLOOK | January 30, 2023
With a possible recession looming in 2023, 2022 was an interesting year for talent and the technology sector. With some of the nation's largest tech companies announcing layoffs and hiring freezes, middle market technology companies will find themselves in a newfound position of strength when it comes to locating and hiring talent.
Technology has always been a driver of change and innovation. As technology companies strive to innovate, race to be first to market and compete for market share, the fight for top tech talent has been increasingly competitive. Until recently, middle market firms have seemed locked in a losing battle against large public technology companies for talent. However, with climbing interest rates and stubborn inflation, many public tech companies have turned to layoffs as a means of managing profitability and share prices.
Estimates from Crunchbase show as of late-December 2022, "More than 91,000 workers in the U.S. tech sector have been laid off in mass job cuts." The result will be a temporary increase in the availability of high-caliber tech talent. Not all the layoffs in the tech sector have occurred at large public tech companies, as some middle market firms have followed suit. However, just the top handful of large public technology companies hired over 1 million workers in the last two and a half years.
As we enter 2023, what lies in store for many macroeconomic indicators affecting middle market technology firms remains to be seen. However, some facets are more predictable than others:
Robust tech sector employment: Employment in the information sector reached record levels as of the end of October, according to seasonally adjusted preliminary data from the U.S. Bureau of Labor Statistics.
Higher - and still rising - compensation for middle market workers:
More than half of middle market workers (51%) were paid more in the fourth quarter of 2022, according to respondents to the RSM US Middle Market Business Index for the fourth quarter of 2022, and 60% expect to increase compensation over the next six months.
Middle market businesses hiring more workers fell by 14% to 42% in the fourth-quarter MMBI. Firms expecting to add workers in the next six months dropped to 51% from 60% in the third quarter.
A recession in 2023 is a possibility: The latest research by the RSM US economics team in the December 2022 issue of The Real Economy indicates that a mild recession is possible by the second half of 2023 as the impact of higher interest rates is felt.
Inflation remains a concern: "The year's final Middle Market Business Index shows that persistently high inflation is souring businesses' perceptions about the strength of the economy in the near term," said Neil Bradley, executive vice president, chief policy officer and head of strategic advocacy at the U.S. Chamber of Commerce, in reference to the fourth-quarter 2022 MMBI. In this environment, nearly half of MMBI respondents (49%) felt the economy worsened in the fourth quarter, and 41% expect a continued downturn over the next six months.
Seasonally adjusted employment: Information sector*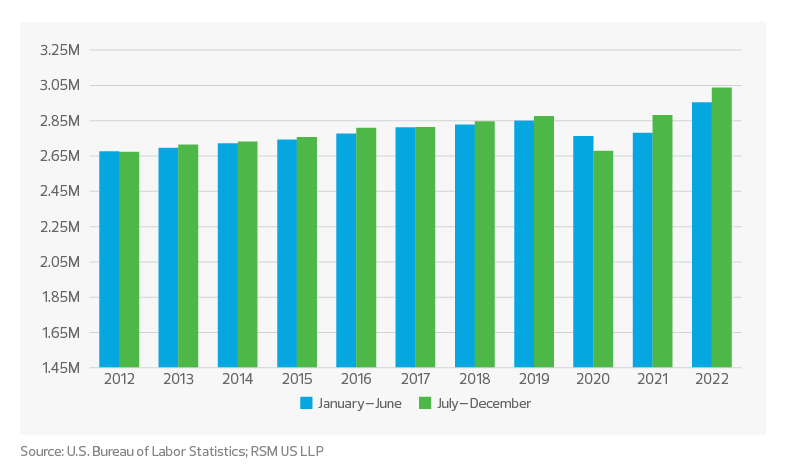 Some of the larger tech companies with top-line revenues dependent on digital advertising dollars are experiencing headwinds, compounding the current and expected future macro challenges with recent changes to data privacy allowing users to opt out of data tracking. The timing of the slide toward recession has placed additional and uneven pressures on certain upstream tech players. The result? Forecasts have been revised, future capex plans have been scrutinized, and unprofitable departments and business units are under review. A seemingly endless string of chief executives and founders have been offering apologies and empathy for workers who either have just been or are about to be laid off. 
With big tech companies now laying off some of the top talent collected over the past few years, middle market tech finds itself at a crossroads. Should companies invest in improvements to their workforce, or should they wait until some of the uncertainty dissipates? Does uncertainty dissipate at the same rate for every company? We don't think it does. Middle market tech firms exist on a spectrum of sophistication, and those that move quickly and decisively based on data-driven strategies first will be able to capitalize on and prosper through the periods of transition into and out of a possible recession.
The time is right for middle market technology companies to take a hard and honest look at their three-statement forecasting models (balance sheet, income statement and statement of cash flows) to determine whether management and the company have the data needed to act decisively when executing strategy.
As 2023 begins, success for middle market technology companies will be predicated on becoming more digital, having the right data at the right time, acting decisively and having the fortitude to stay on strategy in the face of macroeconomic uncertainty.
Let's Talk!
Call us at 1 855 363 3526 or fill out the form below and we'll contact you to discuss your specific situation.
RSM Canada Alliance provides its members with access to resources of RSM Canada Operations ULC, RSM Canada LLP and certain of their affiliates ("RSM Canada"). RSM Canada Alliance member firms are separate and independent businesses and legal entities that are responsible for their own acts and omissions, and each are separate and independent from RSM Canada. RSM Canada LLP is the Canadian member firm of RSM International, a global network of independent audit, tax and consulting firms. Members of RSM Canada Alliance have access to RSM International resources through RSM Canada but are not member firms of RSM International. Visit rsmcanada.com/aboutus for more information regarding RSM Canada and RSM International. The RSM trademark is used under license by RSM Canada. RSM Canada Alliance products and services are proprietary to RSM Canada.
FCR a proud member of RSM Canada Alliance, a premier affiliation of independent accounting and consulting firms across North America. RSM Canada Alliance provides our firm with access to resources of RSM, the leading provider of audit, tax and consulting services focused on the middle market. RSM Canada LLP is a licensed CPA firm and the Canadian member of RSM International, a global network of independent audit, tax and consulting firms with more than 43,000 people in over 120 countries.
Our membership in RSM Canada Alliance has elevated our capabilities in the marketplace, helping to differentiate our firm from the competition while allowing us to maintain our independence and entrepreneurial culture. We have access to a valuable peer network of like-sized firms as well as a broad range of tools, expertise, and technical resources.
For more information on how FCR can assist you, please call us at 1 855 363 3526