Your Business News
Private 5G cell networks and Industry 4.0
December 14, 2022
Authored by RSM Canada LLP
Joel A. Humphrey, CPA, CA shared this article
ARTICLE | December 14, 2022
Manufacturers should invest in 5G infrastructure and planning
For the past two decades Wi-Fi has been the de facto standard for private wireless communications. While new generations have improved overall capacity, speed and latency, challenges persist around Wi-Fi as a shared medium and in the coverage capabilities of each access point. When devices roam from one access point to the next, drops and latency persists. This presents an issue for anything that requires a continuous connection or for devices sensitive to network latency.
Many companies are planning or eyeing the rollout of private 5G networks on their corporate campuses, and manufacturers are no exception : In an October 2022 survey conducted by the Manufacturing Leadership Council, 48% of respondents said they are considering or planning investment in 5G in the next 12 to 24 months.
Middle Market Insight
While today private 5G networks are not widely deployed in the middle market manufacturing space, we see this market growing as companies continue to integrate 5G use cases into their business and look toward digital innovation to maintain competitiveness in the market, offset staffing challenges and deal with increased labor costs.
The improved connectivity enabled by 5G networks is crucial for the industrial sector, especially as tools such as cloud-based data and Internet of Things devices play a bigger role throughout manufacturing operations. Better connectivity throughout operations will enable next-gen Industry 4.0 capabilities, including video analytics, augmented reality, industrial IoT devices, automated guided vehicles or even the ability to relocate traditionally fixed machines for customized or short life-cycle product runs.
The benefits of 5G cellular connectivity fall into four primary areas:
Performance
As your digital transformation progresses, one common driver for all improvements is the quantity of real-time data from all aspects of manufacturing. 5G networks have been engineered from the ground up to support speeds 10 to 20 times faster than previous networks. This means it's easier for such networks to support everything from massive IoT deployments to mission-critical communications.
---
Security
Wi-Fi typically uses a known network name and password or certificate. 5G instead uses SIM cards programmed to connect to your network. Additional security protocols built into the platform create a more secure network over Wi-Fi overall.
---
Coverage and flexibility
A key benefit of cellular technology is the coverage capabilities. In a manufacturing landscape, one 5G radio can cover the same area as two dozen Wi-Fi access points, reducing the need to hand off between radios and resolving network congestion in highly dense areas. In mining, energy and shipping, all of which involve difficult-to-cover areas, the benefits are clear.
---
Service levels
A private network may provide several advantages over a public network from a major carrier. A key benefit of 5G is the ability to slice the network to guarantee network performance for certain workloads. For example, autonomous forklifts or robots require very low network latency to navigate the facility and communicate with other autonomous guided vehicles. A private network can guarantee bandwidth to these critical devices, just as a traditional wired network does.
---
5G connectivity also has the potential to help industrial organizations improve the way they measure workforce efficiency—and that's crucial at a time when manufacturers continue to struggle with hiring and high labor costs, and open jobs in the industry are nearly double their pre-pandemic levels.
Wearable devices can help teams get a clearer picture of how employees on the shop floor interact with each other and with machines. Augmented reality can reduce your repair and maintenance cycles, and IoT deployments can support advanced analytics and improve decision-making. All of this, though, depends on the strong and reliable network coverage that 5G can provide.
Manufacturing sector unemployment and open jobs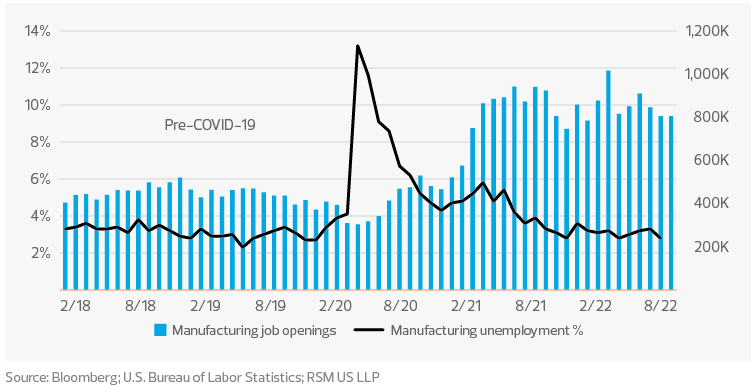 Manufacturers that aren't making investments in 5G infrastructure and planning will be at a significant competitive disadvantage. Compared to five other sectors, manufacturing is expected to spend the second highest amount of money—behind retail—on such investments between 2020 and 2030, according to GSMA Intelligence.
Manufacturers looking to capture more data, provide real-time analytics or deploy more automation on the floor can use 5G connectivity to reach those goals.
Annual 5G investment by industry, 2020-2030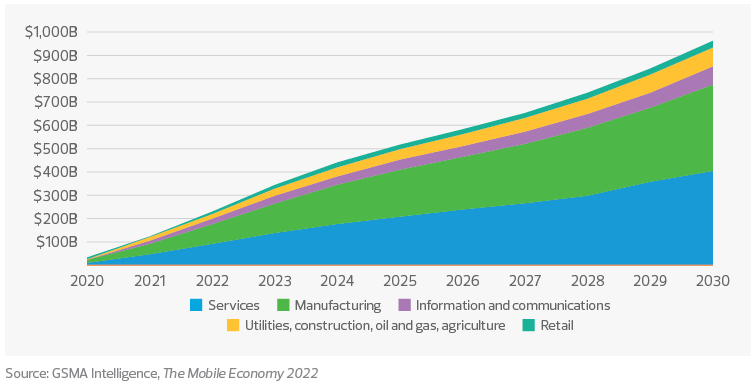 This article was originally published on RSM US.

Let's Talk!
Call us at 1 855 363 3526 or fill out the form below and we'll contact you to discuss your specific situation.
RSM Canada Alliance provides its members with access to resources of RSM Canada Operations ULC, RSM Canada LLP and certain of their affiliates ("RSM Canada"). RSM Canada Alliance member firms are separate and independent businesses and legal entities that are responsible for their own acts and omissions, and each are separate and independent from RSM Canada. RSM Canada LLP is the Canadian member firm of RSM International, a global network of independent audit, tax and consulting firms. Members of RSM Canada Alliance have access to RSM International resources through RSM Canada but are not member firms of RSM International. Visit rsmcanada.com/aboutus for more information regarding RSM Canada and RSM International. The RSM trademark is used under license by RSM Canada. RSM Canada Alliance products and services are proprietary to RSM Canada.
FCR a proud member of RSM Canada Alliance, a premier affiliation of independent accounting and consulting firms across North America. RSM Canada Alliance provides our firm with access to resources of RSM, the leading provider of audit, tax and consulting services focused on the middle market. RSM Canada LLP is a licensed CPA firm and the Canadian member of RSM International, a global network of independent audit, tax and consulting firms with more than 43,000 people in over 120 countries.
Our membership in RSM Canada Alliance has elevated our capabilities in the marketplace, helping to differentiate our firm from the competition while allowing us to maintain our independence and entrepreneurial culture. We have access to a valuable peer network of like-sized firms as well as a broad range of tools, expertise, and technical resources.
For more information on how FCR can assist you, please call us at 1 855 363 3526