Your Business News
Challenges in lowering operating costs require a sound plan
January 16, 2023
Authored by RSM Canada LLP
Mark Boivin CPA, CA, CBV shared this article
ARTICLE | January 16, 2023
Business services firms face challenges in lowering operating costs—especially labor costs. Most important is that firms have a solid plan going forward. Some firms pass increased operating and labor costs on to their customers, some automate processes, and others outsource operational functions. There is no one-size-fits-all solution, but implementing a sound plan based on specific business needs and opportunities will increase the likelihood of future success.
Labor update
Employee productivity is top of mind for executives in business services, which is a labor-intensive sector. In an environment where employee costs continue to rise, the only ways to maintain margins are to increase labor productivity or raise prices. Labor productivity is typically increased by investing in productivity-enhancing technologies or more training and development for employees. But what happens when employee costs continue to rise, while labor productivity and prices charged for services begin to dip?
Labor costs and productivity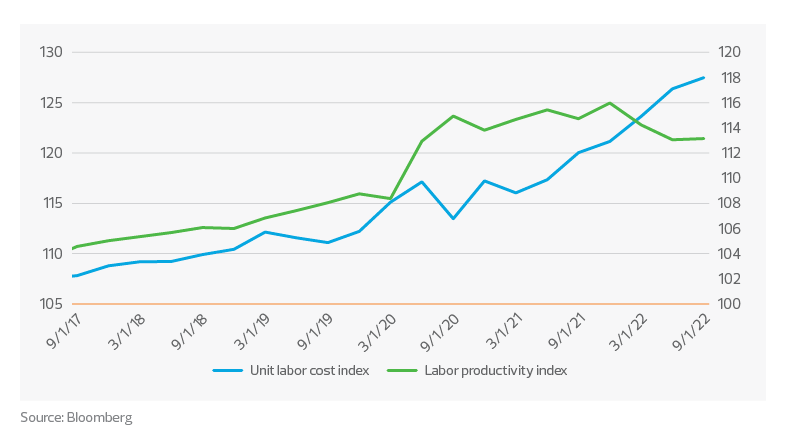 The unit labor cost index and labor productivity index have moved in concert in recent years, but shifted to an inverse relationship in the second and third quarters of 2022. As expected, given the tight labor market, unit labor cost continues to increase. But why has labor productivity tailed off?
According to a recent MetLife study, 72% of employers say stress and burnout are a challenge or concern for their organization. For business services companies that rely on their labor force more than most other sectors do, the effect is magnified. Stress and burnout could certainly lead to decreased productivity. Companies should keep this in mind if they hope to maintain an engaged and motivated workforce.
Service industry employment trends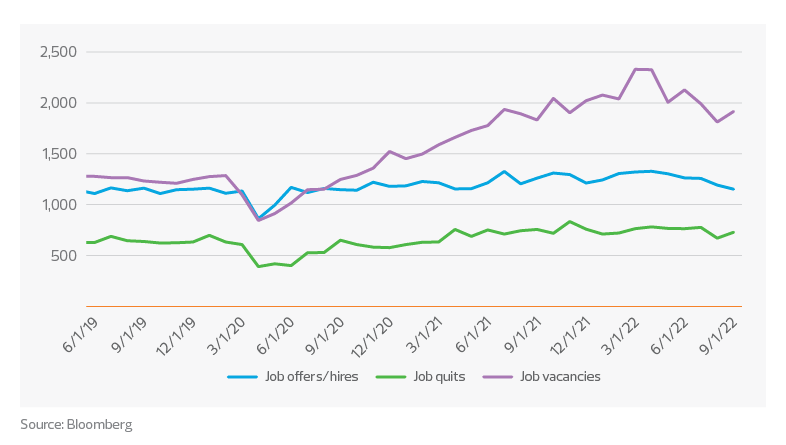 Business services firms continue to experience turnover and difficulty recruiting employees, with job vacancies reaching a three-year high in the second quarter of 2022. A viable alternative for firms experiencing these challenges is an outsourced managed services function, whether it be within human resources, accounting and finance, or IT.
For workforce solutions firms, this creates an opportunity for increased staffing placements, as many companies continue to focus on hiring. For other subsectors, such as environmental services, companies are doubling down on automation to reduce operating costs.
James C. Fish, CEO of Waste Management, said, "We worked hard to adjust our business model over the last several years, and some of the results of that in the third quarter, particularly in our automated facilities. Our five fully automated MRFs (materials recovery facilities) are now delivering differentiated results relative to our single-stream network, with about 30% lower labor costs, 13% lower total operating cost, nearly double the operating EBITDA margin and most importantly, a 40% improvement in key safety metrics."
While automation can be a significant capital investment, firms tend to see a return in the form of reduced labor costs and increased employee productivity. One thing to consider is how to allocate savings created through automation projects. Firms may want to invest in new service offerings, employee training, or employee benefits that are less tangible but boost morale.
In addition, many firms tackle automation in conjunction with preparing a digital road map, which outlines what the business wants to achieve. Identifying digital initiatives can help companies align their immediate needs with their long-term goals.
Private equity
While private equity activity cooled off a bit in 2022 compared to 2021, the business services sector remained strong.
Private equity activity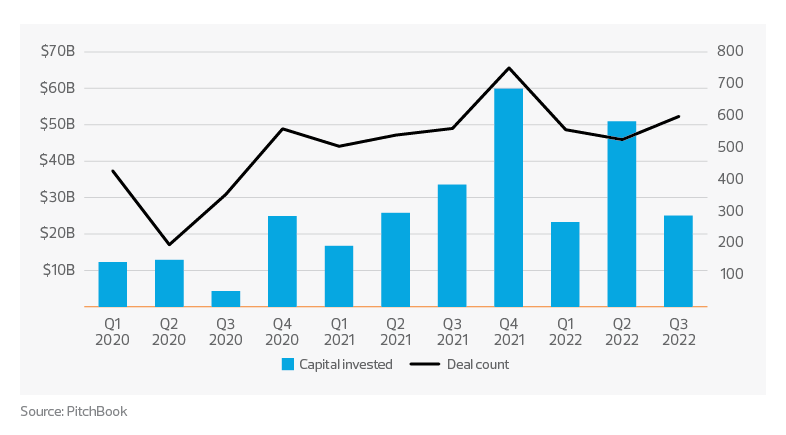 The sector actually saw more capital raised in 2022 ($99 billion) compared to 2021 ($76 billion) through the first three quarters of each year. For this same period, 1,679 business services deals closed in 2022 compared to 1,603 in 2021.
If past performance is an indicator, prepare for a strong fourth quarter for PE activity in business services. For those looking for potential exit strategies, PE could be worth exploring. It is important to note, however, that rising interest rates mean fewer PE firms will want to take on debt for acquisitions—which could lead to a decline in PE activity in the business services sector beginning in 2023.
Looking ahead for business services companies
While labor challenges persist, business services firms can pursue several avenues to retain clients and continue serving them efficiently and effectively. Outsourcing back-office functions and increasing automation of processes can pay huge dividends—including reducing employee stress and burnout, which is crucial for retaining staff and maximizing productivity.
So far this year, the business services sector has not experienced a significant downturn regarding PE investment, and this trend will likely continue through the fourth quarter.  However, that could change in early 2023.
This content was originally published on RSMUS.com.
Let's Talk!
Call us at 1 855 363 3526 or fill out the form below and we'll contact you to discuss your specific situation.
RSM Canada Alliance provides its members with access to resources of RSM Canada Operations ULC, RSM Canada LLP and certain of their affiliates ("RSM Canada"). RSM Canada Alliance member firms are separate and independent businesses and legal entities that are responsible for their own acts and omissions, and each are separate and independent from RSM Canada. RSM Canada LLP is the Canadian member firm of RSM International, a global network of independent audit, tax and consulting firms. Members of RSM Canada Alliance have access to RSM International resources through RSM Canada but are not member firms of RSM International. Visit rsmcanada.com/aboutus for more information regarding RSM Canada and RSM International. The RSM trademark is used under license by RSM Canada. RSM Canada Alliance products and services are proprietary to RSM Canada.
FCR a proud member of RSM Canada Alliance, a premier affiliation of independent accounting and consulting firms across North America. RSM Canada Alliance provides our firm with access to resources of RSM, the leading provider of audit, tax and consulting services focused on the middle market. RSM Canada LLP is a licensed CPA firm and the Canadian member of RSM International, a global network of independent audit, tax and consulting firms with more than 43,000 people in over 120 countries.
Our membership in RSM Canada Alliance has elevated our capabilities in the marketplace, helping to differentiate our firm from the competition while allowing us to maintain our independence and entrepreneurial culture. We have access to a valuable peer network of like-sized firms as well as a broad range of tools, expertise, and technical resources.
For more information on how FCR can assist you, please call us at 1 855 363 3526