Your Business News
Beyond digital transformation: Becoming a fully digital organization
July 25, 2022
Authored by RSM Canada LLP
Joel A. Humphrey, CPA, CA shared this article
ARTICLE | July 25, 2022
For several years, companies of all sizes have been pursuing digital transformation and integrating innovation into several key focus areas of the business. While the goals for digital transformation are different for each company, it's time for companies to establish a more ambitious goal—to become a digital organization. At this point, those organizations that are still focusing on establishing digital transformation risk being left behind and developing a productivity, efficiency and business insight deficit.
"While digital transformation is still an important goal for organizations to reach, it's more of a necessity and an expectation now than a competitive differentiator," said Bill Kracunas, RSM principal and management consulting leader. "Instead, companies need to focus on developing and integrating a more holistic approach to incorporating innovation across the entire enterprise."
Becoming a digital organization is an ongoing process that involves adopting emerging innovation throughout the business instead of only focusing on specific areas. It is a progressive continuum that moves across the organization, becoming more advanced and gaining more capabilities and functionality with each step forward.
The transition requires a change in perspective, with digital technology at the heart of key processes and decision-making.
"In the past, an insurance company may have considered going digital," said Kracunas. "But now, that company should instead think 'what if I were a digital company that provided insurance?' It may seem like a subtle difference on the surface, but it requires a change in mindset and a new framework that drives various digital initiatives and projects that align with your organizational strategy."   
While our road map to becoming a digital organization currently has three phases, that number can grow as time goes by and the opportunities to embrace innovation grow for middle market companies.
The digital organization road map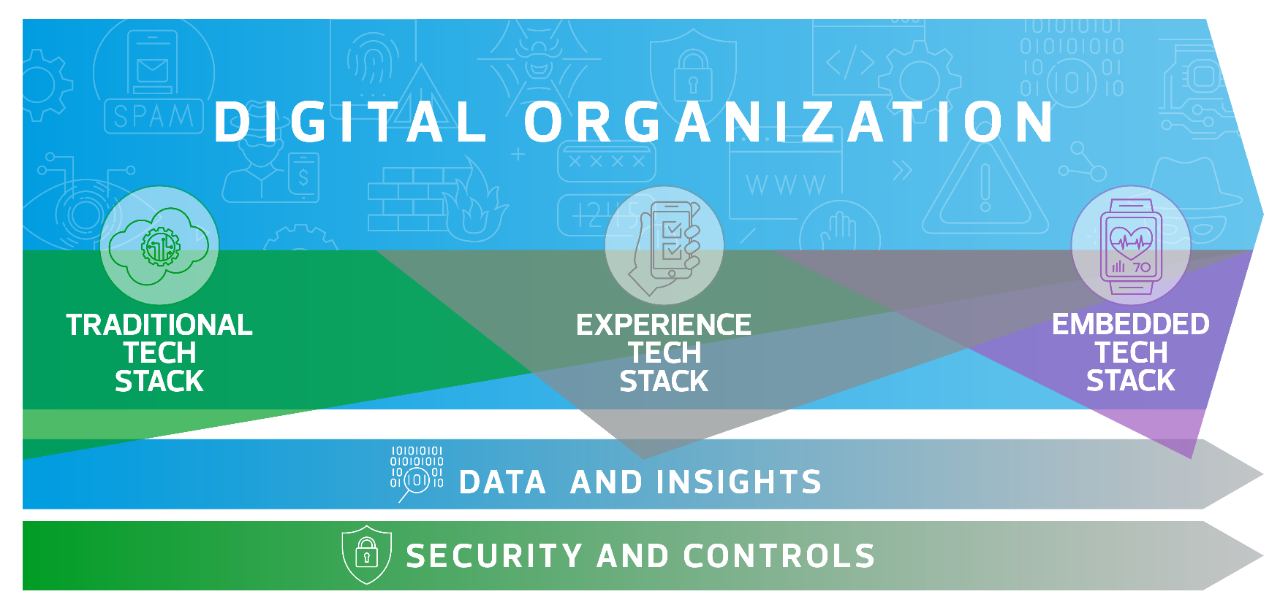 Traditional tech stack 
This phase is what organizations typically focus on when implementing digital transformation initiatives. Common technology solutions and applications that are considered and adopted at this step include ERP and CRM, as well as financial systems and Microsoft Office 365 applications. While these solutions may have been leading transformation efforts in the past, they have generally become expected for leading middle market businesses. Current transformation initiatives in the traditional tech stack include process automation, system integrations, data and optimization of core systems with new features and intelligence.
Experience tech stack
Enhancing the human experience is more important now than ever before, and this level of the road map focuses on the technology that makes your processes more engaging for customers and employees, and even for investors, shareholders and board members—anyone that interacts with your business. Common examples of solutions at this stage include your website, client and customer portals, or workflow applications like ServiceNow.
For example, elevating the customer experience is more important now than ever before, and company stakeholders generally understand the critical role technology can play. In a recent report by RSM and Corporate Board Member, nearly two-thirds of surveyed middle market board members (65%) listed improved customer experience as an objective that relies on leveraging new technology—the top result.
Embedded tech stack
As technology evolves, several applications and opportunities for automation are available to embed into products, services and processes. For example, building technology in your specific product to track the durability or efficiency and sharing that information with customers via a product-specific mobile application. These tools represent an evolution, as more areas of the business are now getting involved with automation, from operations to manufacturing and product design.
The more basic, foundational technology is located on the left side of the continuum and marketing and HR technology become involved as you move to the middle. When you move to the right, design and production become more engaged in innovation, helping you implement an enterprise approach to becoming digital. The combination of the traditional, experience and embedded tech stacks help to triangulate the direction and priorities of a digital organization.
However, there are two critical, additional elements that establish the foundation of the digital organization road map:
Data and insights
Companies produce immense amounts of data, and by becoming a fully digital organization, you can use that information to learn and make better decisions. Your data can help you understand how you are doing operationally (traditional), what people think of your business (experience) and how your products are performing (embedded). Building a true learning system should be the goal— getting there is not an easy task and requires a comprehensive data strategy.
Security and controls
As with any new technology investment, you need to ensure that you have the right controls and security technologies in place upfront. This will become more important with experience and embedded technology and any emerging innovation beyond that phase where protections may not be as mature as with traditional technology. Security should not be an afterthought and should be considered in the design of any transformation program.
Innovation and the digital journey are no longer just about the IT and marketing functions, and a true digital organization strategy may require a change in approach for many companies. It involves more teams, more processes and more people, but a successful program will add more capabilities and strengthen the business as a whole as you continue to evolve and integrate innovation on a broader scale.
"Technology has become so pervasive and companies need to find a way to embrace the process improvements it can provide across the organization," said Kracunas. "With this framework in place, companies can ensure that they remain agile and innovative and position themselves as leaders within their respective industries."
Taking advantage of digital technology creates excitement around the organization and, of course, it will come with associated challenges. But the companies that are idle as new solutions become available and realistic for the middle market will likely fall behind competitors. Becoming a truly digital organization is more than just automation, it's about embracing innovation across the business instead of in a few select areas to create a sustainable, evolving, digital-friendly and profitable organization. Ultimately, the goal is to develop an organization that can mature to support more effective processes and actionable insights while making your business more resilient to changes in the marketplace.   
Let's Talk!
Call us at 1 855 363 3526 or fill out the form below and we'll contact you to discuss your specific situation.
RSM Canada Alliance provides its members with access to resources of RSM Canada Operations ULC, RSM Canada LLP and certain of their affiliates ("RSM Canada"). RSM Canada Alliance member firms are separate and independent businesses and legal entities that are responsible for their own acts and omissions, and each are separate and independent from RSM Canada. RSM Canada LLP is the Canadian member firm of RSM International, a global network of independent audit, tax and consulting firms. Members of RSM Canada Alliance have access to RSM International resources through RSM Canada but are not member firms of RSM International. Visit rsmcanada.com/aboutus for more information regarding RSM Canada and RSM International. The RSM trademark is used under license by RSM Canada. RSM Canada Alliance products and services are proprietary to RSM Canada.
FCR a proud member of RSM Canada Alliance, a premier affiliation of independent accounting and consulting firms across North America. RSM Canada Alliance provides our firm with access to resources of RSM, the leading provider of audit, tax and consulting services focused on the middle market. RSM Canada LLP is a licensed CPA firm and the Canadian member of RSM International, a global network of independent audit, tax and consulting firms with more than 43,000 people in over 120 countries.
Our membership in RSM Canada Alliance has elevated our capabilities in the marketplace, helping to differentiate our firm from the competition while allowing us to maintain our independence and entrepreneurial culture. We have access to a valuable peer network of like-sized firms as well as a broad range of tools, expertise, and technical resources.
For more information on how FCR can assist you, please call us at 1 855 363 3526